WoW Reception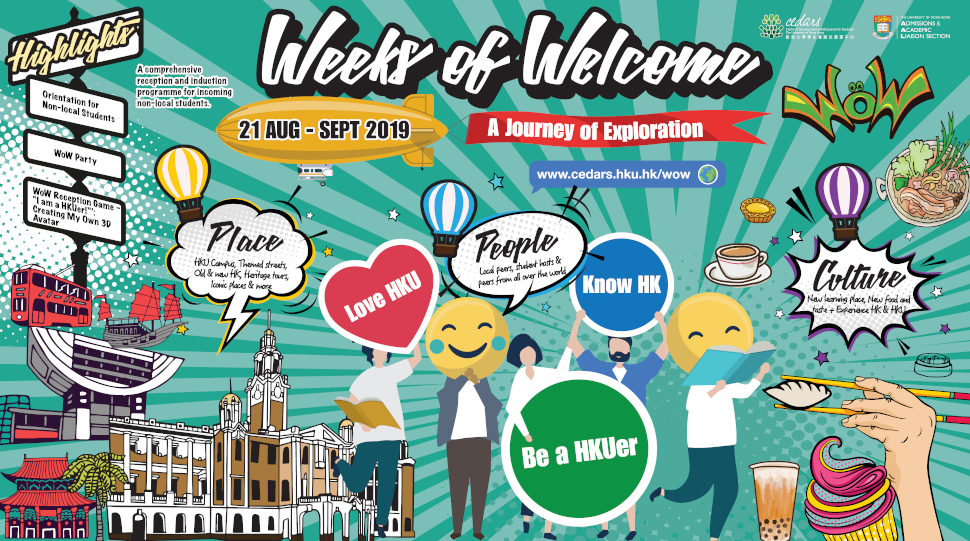 Sign up and confirm your registration for the WoW programmes at the WoW Reception.
If you have any questions, feel free to ask our student hosts at the reception!
Date: 21-30 Aug 2019 (Mon-Fri)
* CLOSED on Sat and Sun
Time: 10:30am to 4:30pm
* EXCEPT 28 Aug (Wed) & 30 Aug (Fri) 2019, when it opens from 1:00pm to 4:00pm
Venue: 5/F, Chong Yuet Ming Cultural Centre, Main Campus
Special events at WoW Reception
No registration is required. Just drop by our WoW Reception!
"I'm a HKUer!" Create My Own 3D Avatar!
What is the "HKYou" like? Mark the beginning of your life as a HKUer by creating your own HKU 3D avatar! To create a 3D version of you on screen, all you need to do is to come to our WoW Reception booth and take a photo! You can also record a speech to make your avatar more life-like. What more, you can download the image and share it with your friends and family!
Date: 21-29 Aug 2019 (Mon-Fri)
* CLOSED on Sat and Sun
Time: 12:00pm-3:00pm
Enquiries: cedars@hku.hk